Steve Gurney, Founder of the Positive Aging Sourcebook, discussed the challenges and options to aging in place, covering everything from modifications that can be made to our current homes so they are physically safe to the myriad of options out there if staying where you are is no longer viable. He speaks with energy and enthusiasm, clearly passionate about what he does, which is providing information and resources so everyone can live a purposeful life, regardless of age, ability, or health.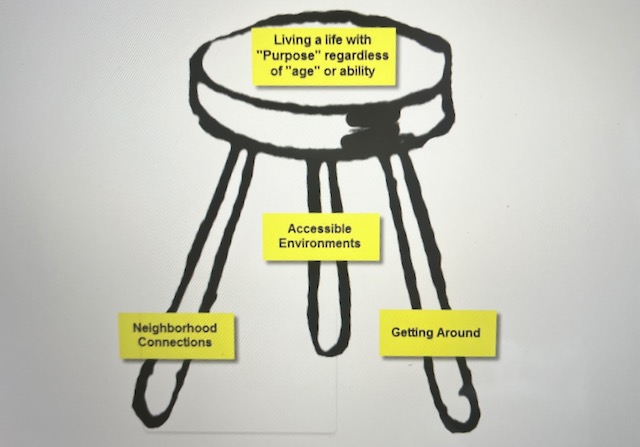 In order to attain the goal of living a purposeful life, you need to be able to get around. In car dependent areas, that means the ability to drive or the resources to find someone to drive you. If you live in a 3-story residence and use a walker or wheelchair, how can you keep your home environment accessible to you? Staying connected with people is essential!
There are universal design elements that can be incorporated into retrofitting your environment so that the most-disabled person can function better and will also benefit everyone. These include outdoor curb cuts rather than steps for home access, a covered entryway (to put groceries and other things down without getting wet), various height counters to accommodate both able-bodied adults and someone in a wheelchair or a child, and eliminating upper cabinets. Most falls in the home occur in the bathroom due to poor lighting and slippery surfaces. Installing well-positioned grab bars and removing obstacles to get to the shower help address these issues. Steve recommends hiring a contractor familiar with disability and aging retrofits to perform a safety check of your home to include tripping hazards and inadequate lighting. The AARP Livability Index is a great resource that rates neighborhood amenities and services and provides a walkability scores. In our area, the metro offers reduced transportation rates for older adults and people with disabilities. Go Go Grandparent is a transportation, groceries, and home services company geared to older adults. Many more resources can be found in the resource book; ordering information can be found at the bottom of this post.
Silvernest provides homesharing assistance, connecting homeowners and housemates. The Village Movement began with a group of neighbors in the Beacon Hill neighborhood of Boston who came together to create a supportive neighborhood to allow aging adults to stay in their own homes. The DC area is a hotbed for this movement, with Villages in Washington DC, Arlington, and Fairfax County.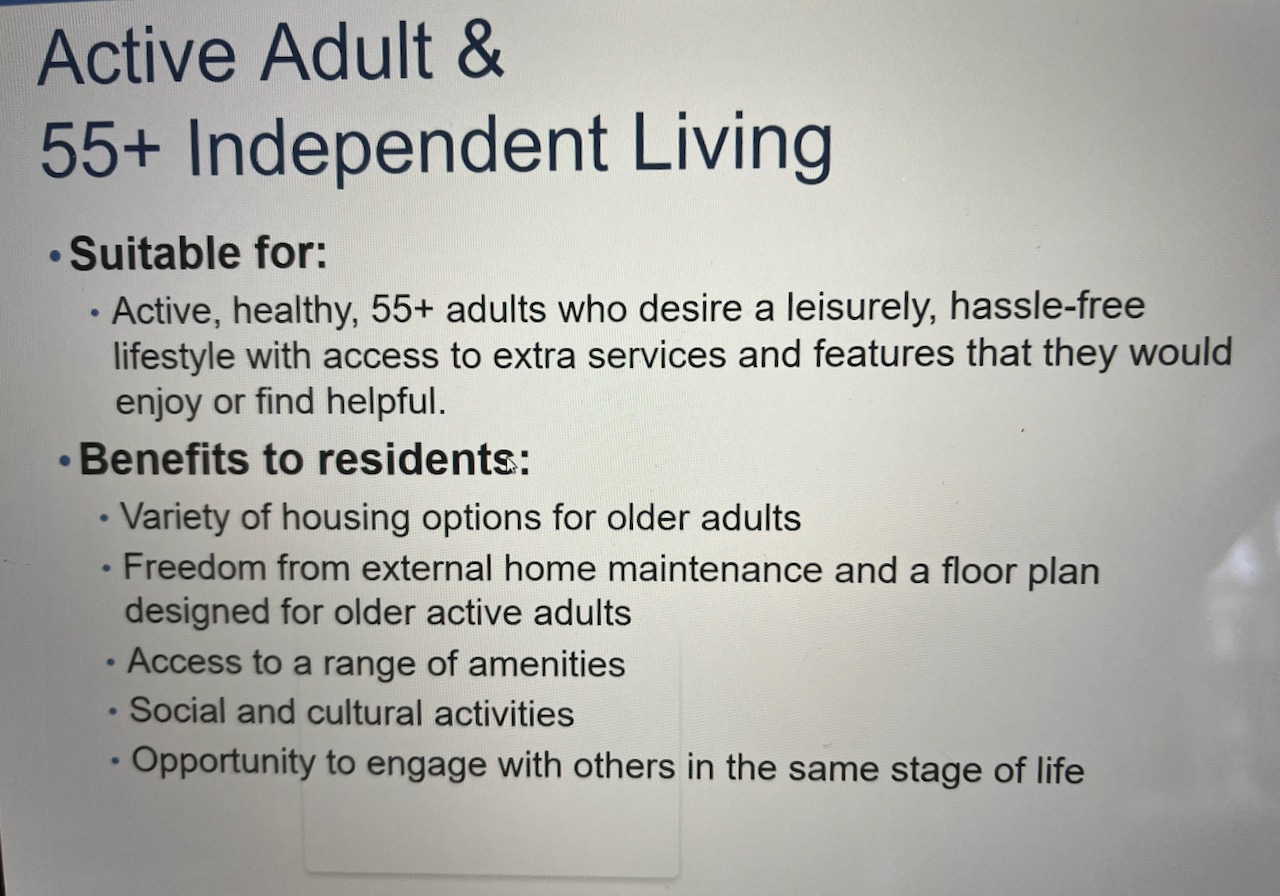 "When it comes to aging-in-place alternatives, don't think nursing home or assisted living," Steve advises. "Think college culture." The challenge of moving to senior living communities is the small dwelling size. College students don't think about the square footage of their dorm rooms; they think about campus activities. Steve advises looking at the people who live in the community. Are they interesting? Do you want to hang out with them? He suggests making a list of your current and lifelong interests and giving it to the marketing director so they can connect you with residents with similar interests. 55+ independent living communities offer lots of activities and amenities. Assisted living offers the next step in care, which includes memory care for dementia, but these long-term care facilities are not covered by Medicare in most states. Private long-term health care insurance and veteran's benefits may provide assistance.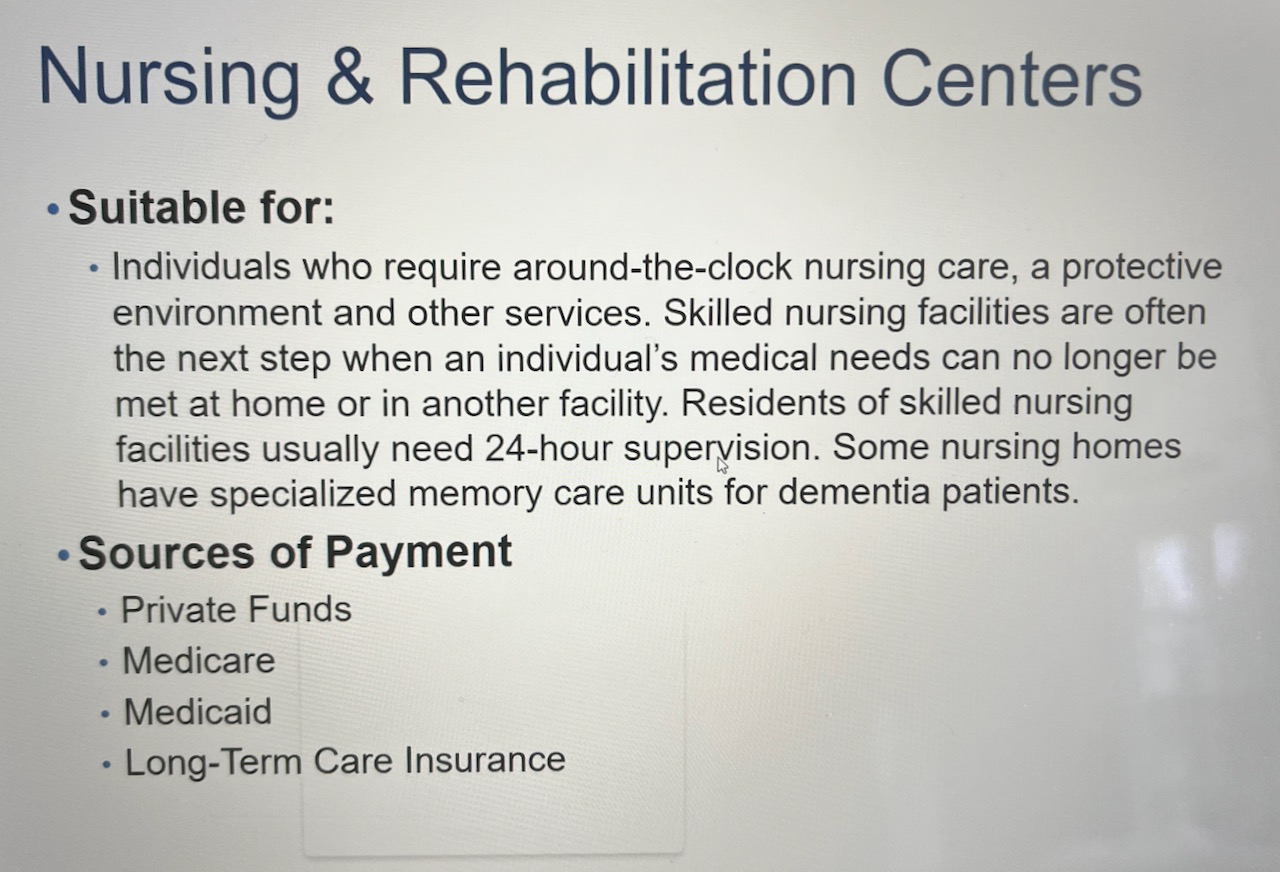 These days nursing homes are usually for short-term rehab and care is generally covered under Medicare and Medicaid for 30 or 60 or 90 days with a doctor's prescription. The Virginian and Greenspring Village are two area life plan communities that meet the needs of people from when they are active and independent to any care that they require over their lifetimes. There is generally an entry fee as well as monthly fees.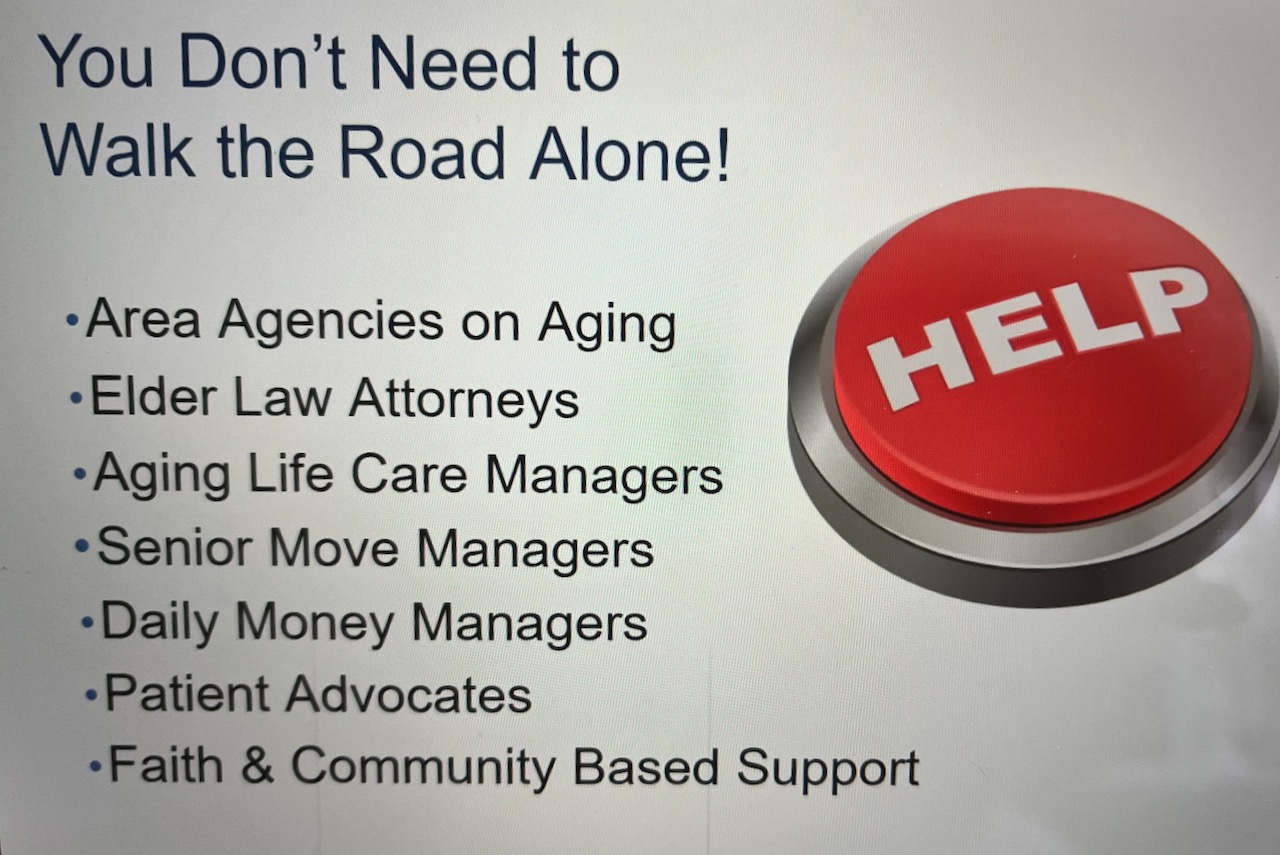 "You don't need to walk the road alone. There are many resources and services to assist you." Steve Gurney
RESOURCES FROM OUR MEETING:
Steve GurneyCell/Text 703-966-6182 steve@proaging.compositiveagingsourcebook.com To order Steve Gurney's sourcebook, which is free, https://www.retirementlivingsourcebook.com/order
Greg Sieb, Modifications for Mobility & Accessibility at Home Greg@liveinplace.com 703-433-0380 https://www.liveinplace.com
Jennifer Hammer, Director of Strategic Partnerships jennifer@silvernest.com | (360)-672-2184 https://www.retirementlivingsourcebook.com/digital-discussions